by Sarah Geegan
In a year that University of Kentucky teams have captured national titles, two UK alumni were part of another team that gained a world-record title — one that has the potential to impact everyone.  
UK alumni Joe Bullock and Kathy Woody are synthetic chemists at
Phillips 66
, a Houston-based company that manufactures energy products. Their team recently attained the world record for the most efficient polymer-based solar cells.
Increasing the efficiency of these organic photovoltaic (OPV) cells could have enormous implications for the energy industry. Currently, solar panels consist of photo cells based on the element silicon, which convert light energy to electrical energy. These silicon panels are costly, fragile and expensive in large amounts. However, organic panels, such as the ones Bullock and Woody helped develop, are produced using plastics and are less expensive, flexible and tougher.
"Using inorganic semi-conductors like silicon, which makes materials expensive and difficult to process in large quantities, is why solar cells are still very expensive compared to traditional grid power," Bullock said. "So we are investigating the next step. We hope to take plastics instead of silicon, and implement the cells into affordable, light-weight materials that could be as flexible as a grocery bag."
Bullock said these materials could be ideally fabricated in a manner similar to a printing press or newspaper printing reel bound to thin plastic. Large scale manufacturing would bring down cost.
"The flexibility of plastics provides so many more application opportunities," Bullock said. "The panels could be put on window blinds and rolled up. They could also be portable — integrated into tents or umbrellas, for camping applications. For example, using this technology, a tent could absorb sunlight and generate power in remote locations."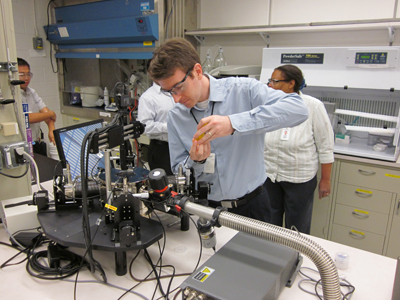 While the previous efficiency record for OPV cells was 9.1 percent, the team's new record stands at 9.3 percent. The current market silicon-based cells boast an efficiency percentage of 15, so the team still has progress to make, but Woody said she is confident the team will continue to enhance the cells' efficiency.
"We are thrilled by the results, but we don't consider them a stopping point," Woody said. "We have our sights on a much higher goal to develop something that can be a good quality commercial product."
Bullock and Woody graduated from UK with
chemistry
degrees in 2004 and 2005, respectively. They attended different graduate schools — Bullock, Northwestern University and Woody, Georgia Institute of Technology — before both took jobs at Phillips 66 in 2011. They did not realize they would be collaborating on the same team until a few weeks before their work began.
UK alum Joe Bullock works on equipment in the team's lab at the Phillips 66 Research Center.
"When I showed up my first day of work, they said 'by the way, we have hired another person you must know because you published a paper together,'" Woody said. "We had worked together throughout our undergraduate research, so that was really exciting to already know someone that I was going to work with, and to know that while we were in different graduate schools, we had similar backgrounds and complemented each other."
Both Bullock and Woody credit their undergraduate research experiences at UK as instrumental to their current success. Bullock began his research in chemistry professor
John Anthony
's lab the summer after his freshman year, then additionally began working in chemistry professor
Mark Watson
's lab, where Woody worked as well.
"Conducting research was an eye-opening experience," Woody said. "It allowed me to identify things I enjoyed, then prepared me for the field. Working with Dr. Watson, I conducted independent research throughout my last two years at UK, and this resulted in three publications (in prestigious scientific journals) that helped jumpstart my career. It also gave me good preparation for graduate school and equipped me to start working and researching right away."
Bullock said that being able to begin his research so early in college solidified his interest in organic systems and equipped him to stay on the research path. He  was coauthor of one of Woody's publications from the Watson lab, as well as two others resulting from his research in the Anthony labs.
Watson said that, looking back on his own career path, the most important influences came from undergraduate research and committed research mentors.
"Students generally don't choose an academic major in the sciences unless they already have some interest," Watson said. "However, hands-on undergraduate research can really light the fire that propels them forward over the hurdles and into a meaningful career of solving problems. I think all of us here at UK delight in fostering an environment where budding researchers catch that fire and run with it. We can't imagine a greater reward than watching former students excel, and Kathy and Joe are prime examples." 
Woody said that she is very thankful for her relationship with Watson, whom she utilized as a mentor throughout graduate school and throughout her work at Phillips 66. She is confident that her strong preparation will continue to pay dividends as the team strives to reach even greater levels of efficiency for OPV cells.
"My time at UK was really pivotal for putting me on my career path," Bullock said. "We're obviously thrilled to have broken the new world record, and I'm enthusiastic about our work moving forward."
photo courtesy of Phillips 66