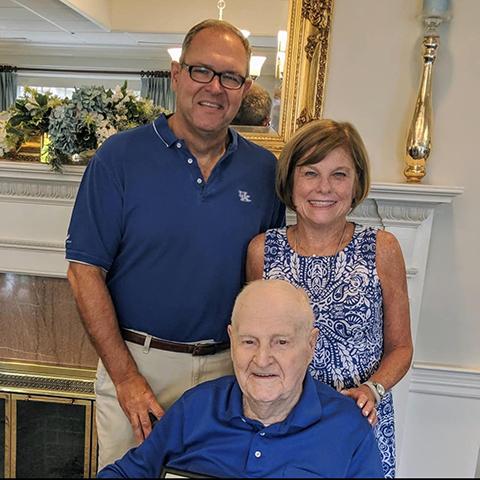 On July 19th, Emeritus Prof. Paul Sears, a native of Somerset, Kentucky, now retired and living at The Lafayette senior center in Lexington, was honored for his service to Kentucky and the nation.  In World War II, Paul was a tail gunner on a B-17 bomber crew which was shot down over the Netherlands in 1943 while returning from an effective mission to target Germany.  He spent 19 months as a POW of Germany and was liberated near the end of the war in Europe by an armored division of Patton's Third Army. After returning to Kentucky, Paul enrolled as a student at UK, where he received his B.S. in industrial chemistry (1950) and Ph.D. in physical chemistry (1953).  Following graduate studies, he continued at UK as an instructor/research associate (1953-1954) and assistant professor (1954-1957). After a brief period working at Monsanto, Paul returned to UK where he became a full professor (1962).  He served as a Professor of Chemistry for 28 years and influenced the lives of more than 7,200 students at all levels before retiring in 1990.  Paul served as Chair of the Lexington Section of the ACS (1962), Chapter President of Sigma Xi (The Scientific Research Society (1967)), and President, Section Chair and Secretary of the Kentucky Academy of Science ('68, '56, '55, respectively). He is a member of Phi Beta Kappa (President of the KY Chapter, '63) and Omicron Delta Kappa, a national leadership honor society.     
Special Honors and Awards for Paul include: UK Greek Community Outstanding Teacher Award (1968), UK Alumni Association Great Teacher Award (1980), Faculty Representative on UK's Board of Trustees (1969-1978), and Special Assistant for Academic Affairs and advisor to UK's President Otis Singletary (1980-1990). Paul also was director and chair of UK's Institutional Self-Study, the commottee to review policies and procedures of UK's community college system, as well as a member of the task group to deveop a Comprehensive Plan for Higher Education in Kentucky. In this period, he served as UK's representative for the Kentucky Public Higher Education Coucil of Chief Academic Officers. After retirement, Paul served again in this capacity as Special Assistant to the President (January to May, 1991). When he was inducted into UK's College of Arts and Sciences Hall of Fame in 2013, Paul noted appropriately, "My roots at UK run deep."
At the recent ceremony, Congressman Andy Barr read the Congressional Record aloud describing Paul's heroism and presented him with a signed copy.  The document provides an overview of not only Paul's military service but his many other contributions.  At the presentation, Paul was surrounded by dozens of his friends and family.
Photo shows Paul with his daughter Lizzie Brown and her husband, Scott.