Discover the Right Formula with a Major in Chemistry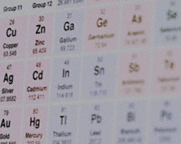 Often referred to as the central science, chemistry examines the composition, structure, properties, and reactions of the stuff of the universe. The centrality of Chemistry is evident from the breadth of topics of recent Nobel Prizes in Chemistry. Students often feel that they could never be chemists because scientists are "super smart." However, anyone who enjoys learning about the world around us can be a successful chemist. The Department of Chemistry offers the Master of Science, the Doctor of Philosophy and the following undergraduate degree options.
The Bachelor of Science degree program develops professional chemists or prepares students for graduate work in chemistry or a closely related discipline. There are two options in the Bachelor of Science program: a traditional version covering all the major areas of chemistry and an option that emphasizes biochemistry. Both of these degree options give students the opportunity to perform original research in various fields of chemistry of the student's choice and both are certified by the American Chemical Society.
The Bachelor of Arts degree program affords students greater flexibility in the selection of courses in other fields of science. The Bachelor of Arts program is designed particularly for students planning to enter the professional health fields, teach in secondary schools or work in areas such as ecology, criminal justice, materials science, patent law, technical service and sales.
Please visit our Chemistry Alumni page for articles about and interviews with our alums!
What skills does studying chemistry develop?
analyze and solve modern problems in many areas
unleash creativity and imagination regarding all we can touch
generate and formulate ideas
utilize math to describe the world around us
collaborate with other scientists
develop technical writing and public speaking abilities
become proficient in the laboratory
develop organization skills
Graduate and Doctorate Program
Career Opportunities
Chemistry provides an excellent foundation for careers in a variety of professions and occupations in academia, government, and industry, and in diverse fields such as environmental sciences, pharmaceuticals, medicine, materials, energy, oceanography, education, health, aerospace, law, and education. Careers include but are not limited to the following:
research chemist
analytical chemist
agricultural chemist
food chemist
technical officer
product development chemist
process development chemist
quality control chemist
patent agent
laboratory technician
teacher
technical writer
forensic technician
pharmaceutical development
product testing and analysis
ethnobotanist
forensic chemist
quality control chemist - chemical sales
scientific equipment sales
For more information about careers, go to the following:
American Association for the Advancement of Science
For more information about career opportunities, contact the UK Career Center.