By Interim Dean Christian Brady
A Brief, Brilliant Life
Susan Anne Odom, PhD
November 16, 1980 - April 18, 2021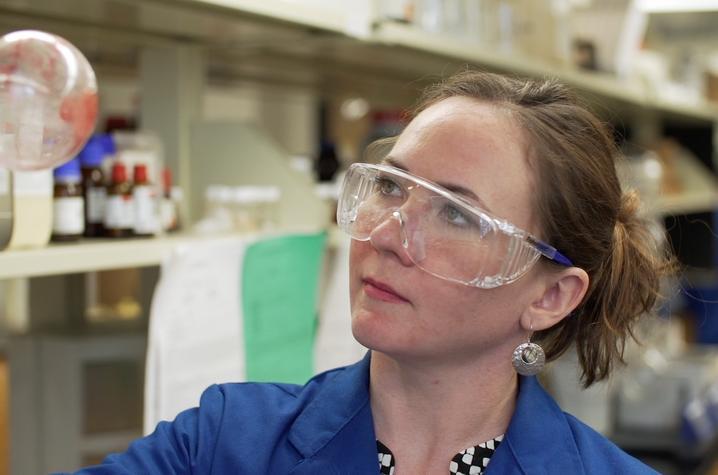 This week brought news of a tragic accident that took from the University of Kentucky family a brilliant young scholar. Dr. Susan Odom, Associate Professor of Chemistry, died April 18, 2021 in her home. A native of Paducah, Kentucky, Susan had a passion for science from an early age. She graduated from the University of Kentucky with a BS in Chemistry in 2003, earned her PhD from Georgia Tech, having been a visiting graduate student at the University of Oxford, and was a Postdoctoral Fellow at the University of Illinois at Urbana-Champaign.
Susan joined our faculty in 2011, becoming an associate professor in 2017. She quickly became a favorite among students, winning the "Teacher Who Made a Difference" award in 2012, 2013, 2016, and 2017. Her research was also award winning, with over three-dozen published articles, five awarded patents, and 11 patent applications. She was also recently recognized with the American Chemical Society Women Chemists Rising Star Award in 2020. "Susan was adept at pursuing new ideas, determining their value, and putting the most useful aspects of the idea into practice," wrote Department of Chemistry colleague Dr. David Atwood. "She really embodied all the best, most ideal attributes of a university professor."
Susan's lab has been incredibly active, focusing on the design, synthesis, and characterization of conjugated organic materials for applications that access multiple states of oxidation. She was also committed to mentoring and supporting women in STEM fields, co-founding a group to encourage girls to pursue their academic goals, and serving on the Kentucky ACE Women's Network.
An outstanding scholar, yes, but Susan was kind, gracious, and a vital member of our community. She was known for her love of travel, cats, gardening, but most of all her friends and colleagues. Her friend and colleague, Dr. Phoebe Glazer noted how her attention to detail extended from research to relationships. "She was a force to be reckoned with, passionate, creative, demanding, supportive, and endlessly dedicated to making things better. Susan was a wonderful colleague, a caring friend, and a person who spent her considerable energies working to make a better world. She noticed things that other people overlooked, said things other people only thought, and cared about individuals that other people often ignored."
 "Wow, look at this beautiful chemist!" This was the first thought Christine Gildersleeve Smothers had when she first met Susan in 2014. "She had such spunk and kindness about her. She was deeply thoughtful and always tried to include everyone, she may have been the most inclusive person I have ever known. Even when she was frustrated, she never lost her grace and always had a twinkle of curiosity in her eyes. She was the person you could always go to for advice on any subject. When my own father passed away Susan reached out to me to support me in ways that most would never understand, but as someone who had also lost her father, she understood the burdens I was facing and the long road of mental recovery from such a devastating event."
The legacy and impact of Dr. Susan Odom will endure for generations. Her research will live on, of course. Yet it is the example she offered of what it means to be a teacher, mentor, and a true friend that has transformed, and will continue to affect, the lives of untold numbers. As her close friend, Dr. Lisa Blue shared, "Susan was always warm, welcoming, opinionated, and strongly principled. I am honored to be one of the many people that Susan included in her life; I'm certainly a better person for having known her." Truly, the world is better for Susan having been in it.
As we mourn the loss of Professor Odom, we want to celebrate her life and the countless lives she touched. The College has created an online area where you can share a memory, tribute, or note in celebration of her life: www.as.uky.edu/remembering-susan-odom. A service for Susan will take place Sunday, April 25, 2021, at 2 p.m. at First Presbyterian Church in Owensboro, KY, and will also be available on Facebook at facebook.com/fpcowensboro. You can find details and more information here.