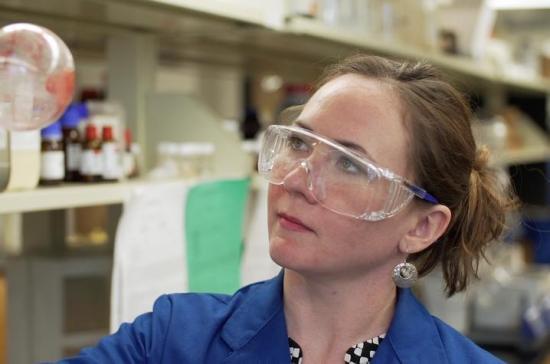 On April 8 at 4 p.m., the Department of Chemistry will hold the first Susan A. Odom Lecture in the W.T. Young Auditorium. The guest speaker will be Jodie Lutkenhaus, professor of chemical engineering at Texas A&M University. Among her honors, she received the 2020 Outstanding Early Career Paper Award in Molecular Systems Design & Engineering. Learn more about Lutkenhaus and the event here.  
The lecture will mark the start of the Professor Susan A. Odom Chemistry Endowment Fund. Gifts to the fund will support:  
• A faculty position in Odom's name.  
• An annual named lecture in the area of organic or materials chemistry.   
• A named award for an undergraduate chemistry major who has demonstrated excellence in research.   
Odom joined the UK faculty in 2011 and was promoted to associate professor in 2017. She quickly became a favorite among students, winning the "Teacher Who Made a Difference" award in 2012, 2013, 2016 and 2017.  She published more than three dozen articles, received five patents and filed 11 patent applications. She was also recognized with the American Chemical Society Women Chemists Rising Star Award in 2020. She died in 2021.   
"Susan was adept at pursuing new ideas, determining their value, and putting the most useful aspects of the idea into practice," said Department of Chemistry colleague David Atwood. "She really embodied all the best, most ideal attributes of a university professor."  
Odom's lab focused on the design, synthesis and characterization of conjugated organic materials for applications that access multiple states of oxidation. She was also committed to mentoring and supporting women in STEM fields, co-founding a group to encourage girls to pursue their academic goals and serving on the Kentucky ACE Women's Network.  
The Professor Susan A. Odom Endowment Fund honors Dr. Odom's legacy of excellence at the University and will have a positive impact on the UK Department of Chemistry for generations to come. The fund has already received unprecedented support from fellow alumni, former students, family and colleagues all over the world. 
Learn more about the endowment here.