By A Fish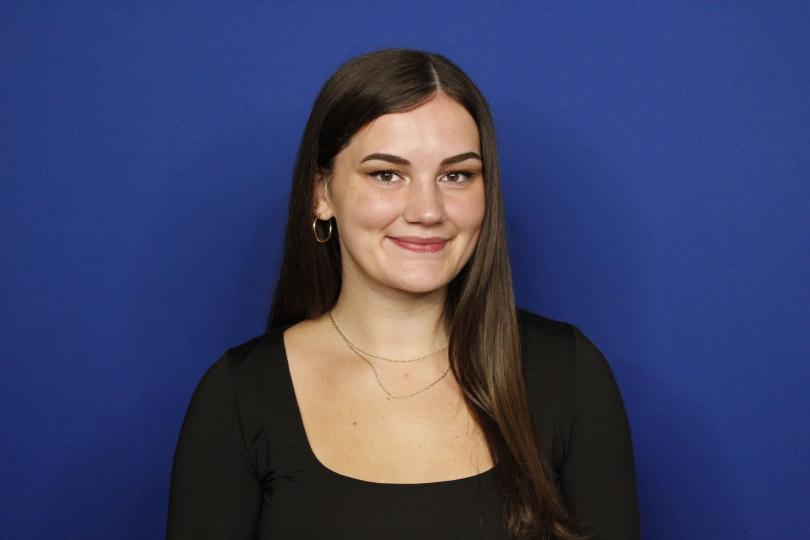 LEXINGTON; Ky. — The Jerry D. Claiborne Scholarship is presented by the University of Kentucky Nu Circle of Omicron Delta Kappa to students who show prowess in such areas as leadership and mentorship. It also takes into account their academic and athletic achievements.  
Nora Sypkens, a chemistry major in the College of Arts and Sciences, was selected in the spring for the scholarship by her peers. Omicron Delta Kappa's Nu Circle has its home base at the Chellgren Center, and it's one of the three major honors societies on UK's campus. To apply for this scholarship, one must be part of the organization. 
"I was inducted into the group last September, and since then I have received a lot of e-mail blasts," she said. "With the Claiborne Scholarship, my circle leader recommended that I check it out. I looked at the application, and it appeared to call for the characteristics that I align myself with, like leadership, mentorship and striving for excellence." 
Thinking quickly, Sypkens completed her application during an hour-and-a-half break she had at the lab where she worked. She wrote about her experience as a leader in K Week, an initiative in August that welcomes new students; she's still friends with the group she led. The K Week position is just one of many leadership positions she has taken on. 
"I'll be the vice president for this upcoming semester, which is exciting," she said. "I do club volleyball at UK, and I'm the merchandise officer for that, so I designed the T-shirts. That's the biggest commitment I have so far. This fall I'm going to be a resident adviser at the University Flats." 
This summer, Sypkens is completing an internship through the University of Illinois Chicago called Summer Undergraduate Research Fellow, or SURF, to focus on drug development from natural products.  
"The internship I'm doing right now is helping me figure out what career I may want," she said. "Maybe once a week we're having seminars about how to pick a graduate program, how to pick a professional college or options within the field of chemistry. For a while, I thought about being a professor, because that involves mentorship, close community and education, all of which are important to me. Every month that I've been at college I've learned more about new opportunities in that field. Right now, I'm thinking about going to pharmacy school, but there's such a wealth of possibilities." 
Sypkens' biggest strength at UK has been involvement. Involvement has helped her create many connections. She comes from a small Catholic school with a graduating class of about 100 in the Chicago suburbs. When she started at UK, she disliked not recognizing anyone when she walked to class or just around campus for that matter. Since then, to widen her social circle, she has participated in several activities, including UK's club volleyball team.   
"I've played volleyball through school since I was in sixth grade, and I was on a travel or competitive team from eighth grade up until now," she said. "I didn't know that for volleyball there was anything like that at the collegiate level, I had no clue until after I had graduated high school. I tried out for club volleyball my freshmen year, and this upcoming year will be my third year on the team and second year on the executive board. We travel to a couple of tournaments a semester at Tennessee, Ball State, Virginia Tech and Purdue to name a few." 
This activity has helped Sypkens build her network at UK, in which she finds comfort.  
"I like to have a lot of people in my corner," she said. "I have a very big corner."