Chemistry Welcomes New Graduate Class
By Susan Odom
This fall the Chemistry Department welcomed its new graduate class of 22 students. Now in their second month at UK, students are settling into new roles as teaching assistants in laboratory courses and in general chemistry recitations while taking a variety of courses in analytical, biological, inorganic, materials, organic, and/or physical chemistry.
Some students were particularly excited to have the opportunity to take a new course offered by Prof. Chad Risko called Organic Materials: Electronic and Photonic Properties. Risko reports, "The students are quite engaged in the lectures, especially since we are able to bring together diverse concepts that are taught in other chemistry courses to build the knowledge required to understand these intriguing materials."
In addition to their coursework and teaching responsibilities, one of the major goals of the students' first year is to identify a research group to join. Here students are pictured at the Faculty Poster Session, held on September 8. This event is hosted annually by the Chemistry Department. New students meet with faculty and their research groups to learn about ongoing and planned projects.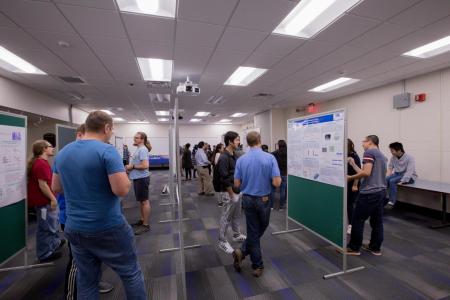 About half of the students are from the United States, from as close as Eastern Kentucky to as far as Nevada, with the balance coming from international locations, notably Sri Lanka, China, India, and Nepal. "We strive to recruit students from a variety of locations," says Prof. Chris Richards, Chair of the Department's Graduate Recruiting Committee. "We believe that students from different educational backgrounds offer unique perspectives in the design of research projects."
The cultural diversity is a strong driving factor in students' decisions to choose UK for their graduate education. Thilini Malsha Suduwella, originally from Sri Lanka where she attended the University of Colombo, said "I chose the University of Kentucky because there are wide range of research areas, talented faculty members and great diversity of international students." Students from the department, including more senior students from her home country of Sri Lanka, have helped Suduwella settle in. "I've really enjoyed getting the chance to meet new friends from different countries around the world. Also, I'm pleased with hospitality and friendliness from UK people."

Student Andrew Schlereth, originally from Hershey, Pennsylvania, completed his undergraduate degree in chemistry with a minor in mathematics at Eastern Kentucky University. Said Schlereth, "During my time at EKU, I participated in undergraduate research in physical and analytical chemistry. I chose UK because of the number of faculty working on materials research and I also felt that UK was the best fit for me." When asked about what he found the most surprising about his experience at UK so far, Schlereth said, "What has surprised me the most about UK so far is how easy the chemistry department has made the transition from undergrad to graduate student for me."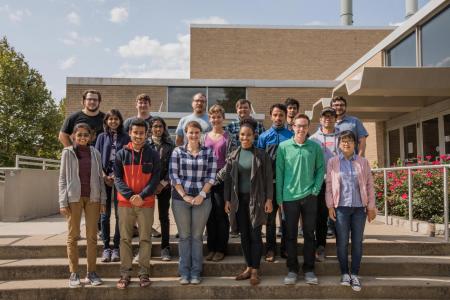 Students have expressed interest in a variety of career paths. Like many of her classmates, Sudawella seeks an academic career. "My ultimate goal is to join academia and handover chemistry knowledge and practical skills to the next generation of students," she said. The Preparing Future Faculty Program, which has been offered by the Graduate School since 1994, provides professional development guidance for graduate students who wish to explore or pursue a faculty career at one of the types of institutions of higher education.
A number of students intend to pursue industrial positions after graduation, including some who already have experience in industry. Student Eric Allen obtained his bachelor's degree from the University of Wisconsin-Madison in 2014.  Said Allen, "I worked at Sigma-Aldrich (now MilliporeSigma) in Madison, WI, immediately after graduating doing contract pharmaceutical manufacturing." After two years in manufacturing, Allen decided it was time for a change in fields and decided to look for graduate programs. "There were a couple groups at UK that piqued my interest more than other research groups I had visited at other Universities," said Allen, who wants to join a group working on medicinal chemistry.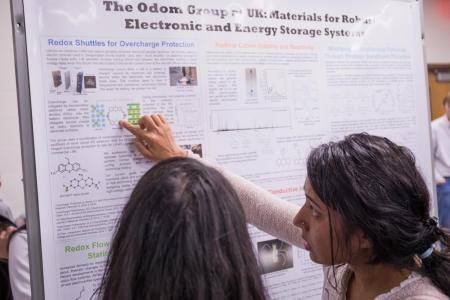 Whether they intend to pursue academic or industrial opportunities, many students are interested in entrepreneurial opportunities. Many faculty members in Chemistry have patented inventions, licensed technologies, and formed start-up companies working with current and former graduate students. Through programs in UK's Office of Technology Commericalization, students can enroll in programs where they can gain marketable skills in technology transfer, patent law, entrepreneurship/startups, and business development.
Beyond the core requirements of a PhD in Chemistry, each student has the opportunity to tailor his or her experiences to best prepare for the career pathway he or she plans to pursue.  Although these aims may change once students gain perspective about various aspects of research and teaching, the incoming class of Fall 2017 is ready to begin this pursuit in earnest.