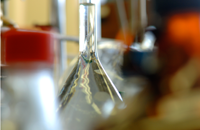 The faculty and staff of the Department of Chemistry are dedicated to the creation and dissemination of knowledge in all aspects of the chemical sciences. We strive to enable students to make meaningful contributions to our diverse, technological society and to improve the lives of the citizens of the Commonwealth of Kentucky and beyond. The short-term goals of the Department focus on improving the educational experience in Chemistry at the undergraduate and graduate levels and on enhancing the Department's long-term contributions in research and service.
Department of Chemistry Commitment to Diversity and Inclusivity
The Department of Chemistry at the University of Kentucky believes whole-heartedly that creating a climate of excellence with diversity, equity, and inclusion at its core is not only ethically and morally right, it is also critical to attaining the best research, scholarship, teaching, and benefits for the Commonwealth.  We are committed to promoting and sustaining inclusion, equity, and diversity through the recruitment and retention of a diverse population of faculty, staff, and students and by implementing initiatives that provide rich diversity-related experiences for all to ensure success in an interconnected world.  We acknowledge the many challenges facing those studying in the sciences resulting from discrimination based on but not limited to race, ethnicity, age, socioeconomic background, religion, veteran status, disabilities, gender/ gender identity, and sexual orientation.  The Department of Chemistry is committed to making students, staff, and faculty aware of the intellectual, mentoring, and student-life opportunities that abound in our Department, University, and local community. We welcome and cultivate diversity in our classrooms and laboratories while engaging in inclusive practices and mentoring students from underrepresented groups towards academic and research success.  The Department of Chemistry at the University of Kentucky recognizes and respects individual differences and we care deeply about the educational and career development of every member of our community. 
UK Commitment to Diversity
The University is deeply committed to fostering a diverse, equitable, and inclusive environment for all scholars, employees, and visitors. For more information regarding the diversity and inclusion efforts by the College of Arts and Sciences and the University of Kentucky please visit the College of Arts and Sciences (https://www.as.uky.edu/diversity), the UK Office for Institutional Diversity (https://www.uky.edu/inclusiveexcellence/home), and the Office for Institutional Equity and Equal Opportunity (https://www.uky.edu/eeo/).
In 2020, UK was named to Forbes Best Employer for Diversity List.  In 2017-19, INSIGHT Into Diversity magazine also recognized UK as one of 16 Diversity Champion Colleges and Universities in the nation.