Location:
Jacobs Science Building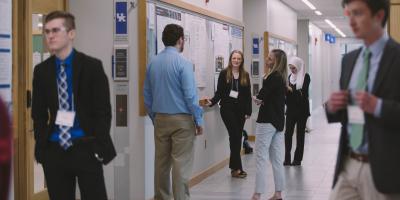 UK Department of Chemistry Regional Undergraduate Poster Compeition
Jacobs Science Building - Atrium (check-in located in JSB 261M)
To comply with University of Kentucky COVID-19 protocols, all presenters and attendees are required to wear masks during the competition.
The Department of Chemistry at the University of Kentucky will hold its annual Regional Poster Session for Undergraduates on Friday, April 15, 2022.  The 2022 competition format is scheduled to be in-person. Come participate in this opportunity to share your research and network with other undergraduate researchers in the region. There is no registration fee!
Abstracts are due by March 25, 2022 at 5pm. To submit an abstract and register, click here.
To view a copy of last year's abstract booklet, click here.
Note to UK students: Students in CHE 395 planning to graduate or otherwise conclude their research are required to participate in the Poster Session if they have not done so in the past.
Schedule of Events
11:30am-12:00pm

Check-in and set up posters

Jacobs Science Building (JSB), Room 261M

Posters should remain on display 12:00pm-3:00pm

12:00pm-1:30pm

Group A Presents

Posters located on the first and second floors of JSB
1:30pm-3:00pm

Group B Presents

Posters located on the first and second floors of JSB
3:00pm-3:30pm
Networking Break
3:30pm

Awards Ceremony

Jacobs Science Building (JSB), Room 261M
The poster size should be limited to 4 feet wide and 5.5 feet tall. 
The 2022 Undergraduate Poster Competition will take place in the hallways of the Jacobs Science Building.  You will each have assigned areas on a wall-mounted rail system to hang posters.  Simply find your name and insert the poster nearby.  Please be aware, thumbtacks are prohibited.  Tape deemed appropriate for the walls will be available to secure the corners of the poster.
Awards
First Prize
$300
Second Prize
$200
Honorable Mention
3 @ $100 each
Recent winners include students from:
Asbury University
Belmont University
Berea College
Centre College
Indiana State University
Indiana University
Indiana University Kokomo
Marshall University
Rose-Hulman Institute of Technology
Transylvania University
University of Kentucky
Western Kentucky University
We thank the Lexington Section of the American Chemical Society for graciously funding the awards for this poster session.
Please contact the department if you have questions.
Type of Event (for grouping events):