by Sarah Schuetze
Subway cards. Receipts from a West End theater. A pamphlet from Mary Arden's farm in Stratford-upon-Avon. Artifacts of summer travel that University of Kentucky's Kelsey Potter, a junior majoring in English and integrated strategic communication, found in her raincoat pockets the first rainy week of the semester.
She hadn't used the jacket since her three-week stay in London where she participated in the prestigious American Institute for Foreign Study (AIFS) Summer Institute at Shakespeare's Globe Theatre. Potter was one of three college students from the U.S. who was awarded admission to the program and funded by the US-UK Fulbright Commission. Her incredible experience in the program reignited her passion for theater. Potter was involved in community theater productions throughout high school in her hometown of Worthington, Ky., but theater has not been a central part of her life at UK. After this summer, she knows it will part of her future.
Potter first learned about the Fulbright Commission's AIFS Summer Institutes when she was a freshman in the Chellgren Student Fellows Program. She decided to apply for one of the seven summer institutes endorsed by the US-UK Fulbright Commission. To prepare her materials, Potter worked with professor Gloria Allaire in Italian Studies to perfect her application essay. When the date that finalists would be contacted for interviews came and went, she knew she didn't get one.
Potter debated applying again the following year; her experience with her first application made her unsure of her chances. English professor Pearl James, professor Anthony Limperos in the College of Communications and Information, and professor Allaire encouraged Potter to apply and offered their support. She was applying for a different program this time: a chance to study Shakespeare at the Globe Theatre in London. In hindsight, Potter felt that the program at the Globe was a better fit for her given her majors and her background in theater. She was shocked and delighted when she heard she got the Fulbright Scholarship to attend the program at the Globe.
According to the AIFS Summer Institute at Shakespeare's Globe Theatre website, applicants are selected based on their academic excellence and their involvement in extracurricular activities, and a quick glance at Potter's achievements at UK shows what a perfect candidate she was for the program. Potter is a UK Chellgren Fellow and in the UK Honors Program, a program with which she travel to Italy and France earlier in the summer. Potter participates in the Student Activities Board, Sigma Tau Delta, and she has been active in Shale, UK's undergraduate academic journal.
In explaining the emphasis on extracurriculars in the selection process, Potter explained, "The Fulbright Commission is really concerned with what you'll bring back from the program. I think they're interested in students who are invested, not only in their art, but also in the community around them so that once they go and experience the program, they'll want to be ambassadors between the UK and the US in terms of art or theater and communication."
As a recipient of a Fulbright Summer Institute Scholarship, the majority of Potter's expenses were paid by the Fulbright Commission. Tuition and fees, travel fare, accommodations, health insurance, and meals—just about everything students could need during her stay was covered.
While in London, Potter and the other students in the program at the Globe Theatre stayed in Kensington and went to the famous Globe Theatre for workshops and classes each day. Shakespeare's Globe Theatre is a reconstruction of the original, which burned down in 1613. (It was rebuilt not long after the fire, but it lapsed into ruin after the closing of London's theaters in 1642, a decree of the Puritan administration, and was demolished two years later).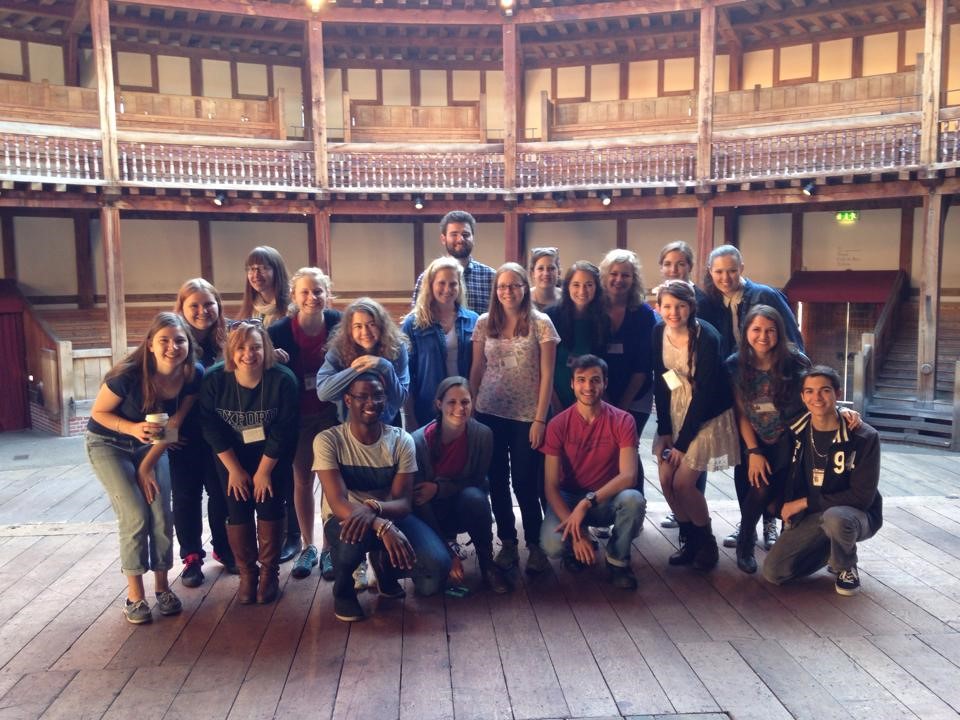 Today's Globe stands a few hundred yards from the site of the original. The reconstruction of Shakespeare's Globe was spearheaded by U.S. actor and director Sam Wanamaker in the 1960s. It functions as an educational resource and working theatre, staging performances of Shakespeare's plays as well as historical or period plays by author playwrights. Potter was at the Globe during the peak season, and she was able to see productions of two Shakespeare plays, "Julius Caesar," "Titus Andronicus," and "The Last Days of Troy," by Simon Armitage. In the evenings, Potter would often go to London's West End to see incredible shows in the cheapest seats possible. She saw "Wicked," "Phantom of the Opera," "Les Misérables," "Miss Saigon," to name a few.
One of the surprises of Potter's experience in her program at the Globe was the emphasis on acting. Many of her classes centered on elements of acting like embodying and moving as characters or elements and even dancing. For someone who preferred being behind the scenes rather than on center stage, this was a bit unnerving for Potter. She had done minimal acting in her previous theater work—once just filling in for an actress who backed out of a four-person performance at the last minute.
Those first days at the Globe, Potter remembered thinking, "Oh my god, I'm not an actor, what did I sign up for?" In her classes, she "was one of the few people who didn't come to the program specifically for acting. So," she says, "I was among all of these people who had been acting since they were kids." But, as she came to realize, "it was fun because we were all sort of taken to the same level." The teacher, an actor at the Globe, would never call acting "work"—it was always "play." But serious, professional play.
Potter says she doesn't have aspirations for becoming an actor after having participated in the Summer Institute at Shakespeare's Globe, but the program did have a lasting influence on her. At the farewell dinner with her fellow classmates, she told them, "This program taught me why I loved theater. And why I need to continue pursuing it. Whether it be a career, or while I'm at UK, or a hobby or a side thing… I love it. It took being in London to learn that it's not a job, it's not work, it's fun, and that's the beauty of it."
Potter thinks of her time at the Globe as a transformative experience in her life, and she wants anyone even contemplating applying for something like this to take the chance. "Just do it," she encourages her fellow students, "don't be afraid—even if, like me, you apply the first time and don't get it." Potter thinks of her experience in the Fulbright Summer Institute program as one of the best times of her life—something she thinks of often, especially when she discovers unlikely treasures hidden in her pockets on a misty day in Lexington.