by Katy Bennett, Student Activities Board
(April 1, 2014) — The Student Activities Board's #TrendingTopics: It's Not Easy Being Green will focus on how important living a green lifestyle is and if this lifestyle is worth the costs. The debate will take place at 7 p.m. Thursday, April 3, in 230 Student Center. Both sides of the argument, for and against living a green lifestyle, will be presented in a respectful manner.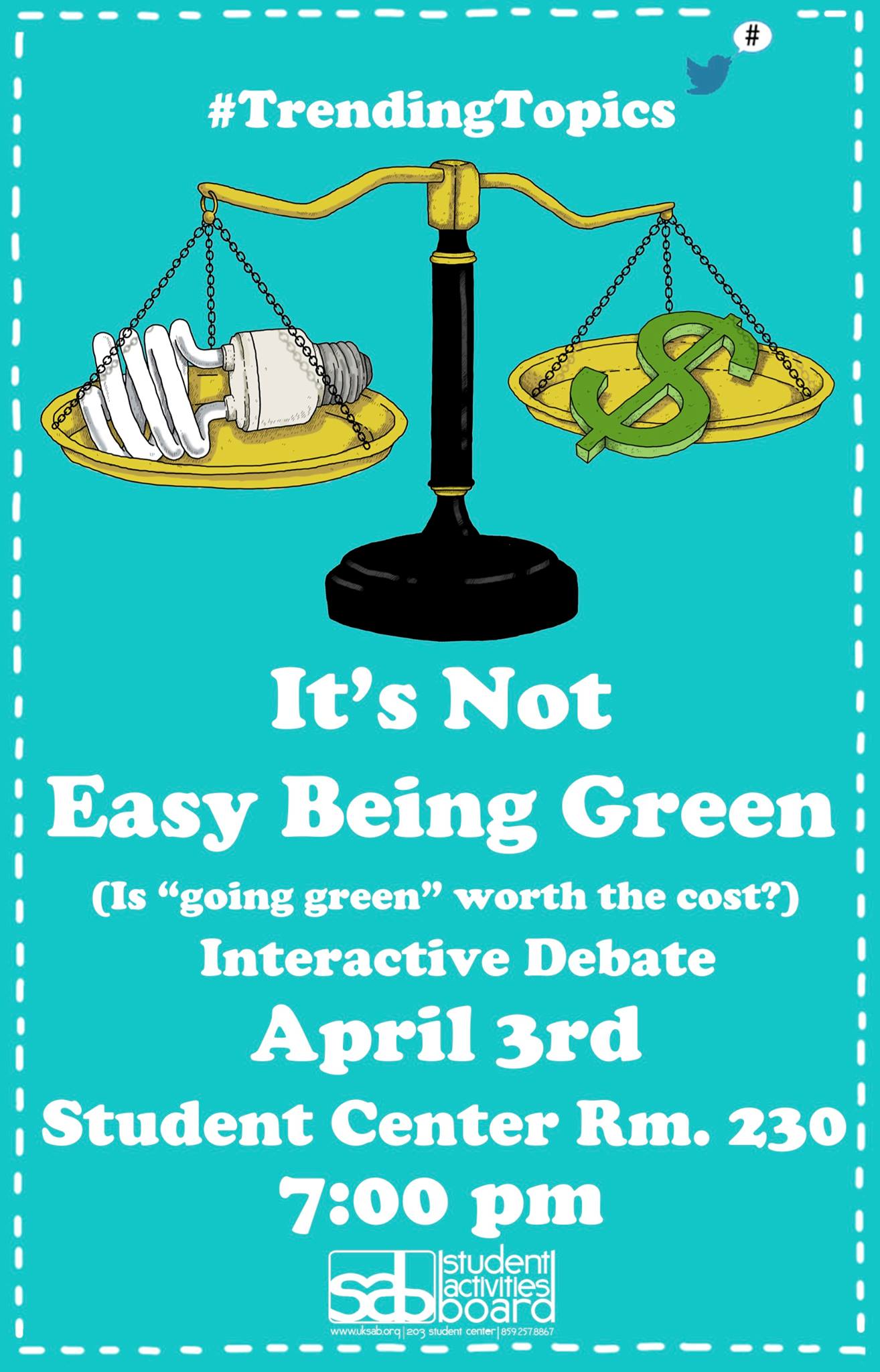 The event will engage college students because of the current trend to live a green lifestyle. The cost to live this lifestyle can seem rather substantial and not feasible for many young adults. Those who attend will have the opportunity to ask questions and share their own opinions through social media with the #TrendingTopicsBG hashtag. Events like these provide a safe environment for students, faculty and the community to discuss hot-button topics that are relevant and important.
"As new technologies develop and we become increasingly aware of what kind of impact our actions have on the environment, it becomes more important for campuses to lead the shift to green energy," said James Collard, SAB associate director of engaging issues. "Campus decisions must carefully balance environmental and economic implications, which can serve as an important lesson to students about preserving the environment as well as cost analysis. This relates directly to the Engaging Issues Committee's goal of challenging students to critically analyze topics that are prevalent in society today."
SAB's Engaging Issues Committee has hosted several debates much like this one. Every trending, debatable topic provokes multiple opinions. #TrendingTopics is the name of the debate series. Other topics that have been discussed were marijuana legalization and gay marriage.
The Student Activities Board brings over 100 entertaining, educational and enriching programs that reflect on contemporary issues to the University of Kentucky campus each year. The programs are designed to enhance the college experience for students, faculty, staff and the greater Lexington community.
Connect with SAB here, follow them on Twitter at twitter.com/UKSAB or like them on  Facebook . For more information about SAB and events, email contact@uksab.org or text a question beginning with SABQ, followed by your question or comment, to 411-247.