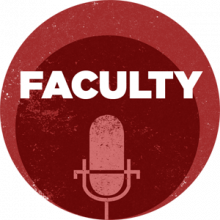 Technology in the classroom is often discussed in terms of solving issues of scale—the rise of massively open online courses just being the largest of examples. Perhaps though, technology may serve the most good when it's scaled to student needs.
Psychology
Professor
Jonathan Golding
has found this to be the case in the many classes he teaches. As he has increasing experimented with tools like Facebook and blogs, Golding has found that the most gains come in the small interactions between students, where they learn to deal with themselves on their own terms, as real individuals. The result: a more productive learning environment made more intimate—not less—by the latest technology. 
In this podcast, Professor Golding discusses how he uses modern social media platforms like Facebook to change the way his students interact with him and each other while also noting some of the tensions that exist when incorporating technology into the classroom.
This podcast was produced by Patrick O'Dowd.

This work is licensed under a Creative Commons Attribution-NonCommercial-ShareAlike 3.0 Unported License.