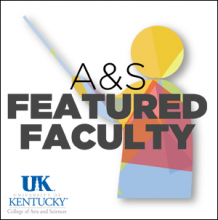 At the beginning of the Fall 2011 semester, we met with all of the new faculty hires in the College of Arts and Sciences. This series of podcasts introduces them and their research interests. Jenny Rice is an assistant professor in the Division of Writing, Rhetoric, and Digital Media. Rice focuses on rhetorical theory and writing studies and is particularly interested in the ways that people make public arguments about different kinds of controversies. In addition, Rice is the Director of Composition and will be working on creating the brand new Composition and Communication Curriculum at UK. 
This podcast was produced by Christina Buckner.

This work is licensed under a Creative Commons Attribution-NonCommercial-ShareAlike 3.0 Unported License.