By Robin Roenker
Veteran UK Chemistry professor Jim Holler ended his tenure as one of the university's most popular and celebrated teachers with a bang last December—literally.
On the last day of classes last semester, before officially retiring on Jan. 3, 2012, Holler led his students outside the Chemistry-Physics Building for some fun. The task at hand: seeing how much of a boom they could create while exploding enormous, hydrogen-filled balloons.
It was a suitable salute to Holler's 35 years at UK, a career that was hallmarked by his passion for teaching and a love for sharing the fun of science with his students.
"Students will tend to remember things if they're exciting enough," said Holler, who taught high school chemistry and physics in his native Indiana for five years before deciding to pursue a doctoral degree. 
"I really enjoyed being a high school teacher. I enjoyed the students, and I enjoyed helping them learn," said Holler, who joined UK's faculty in 1977, just after completing his PhD in analytical chemistry from Michigan State University.  "I got involved in some innovative teaching programs that emphasized non-traditional learning modes, getting away from lecture and actually allowing students to do their own experiments and discover knowledge for themselves. After a few years, I realized I wanted to do those same things with students on the college level."
Once at UK, Holler routinely peppered his lessons with spectacular demonstrations that made chemistry come alive for his students. Whether lighting up a neon-like C-A-T-S sign with luminol to illustrate chemiluminescence, or showcasing the nuclear-reactor-like glow you get when you put burning magnesium in dry ice (a reaction dubbed "Chernobyl"), Holler was a whiz at showcasing chemistry's "wow" factor.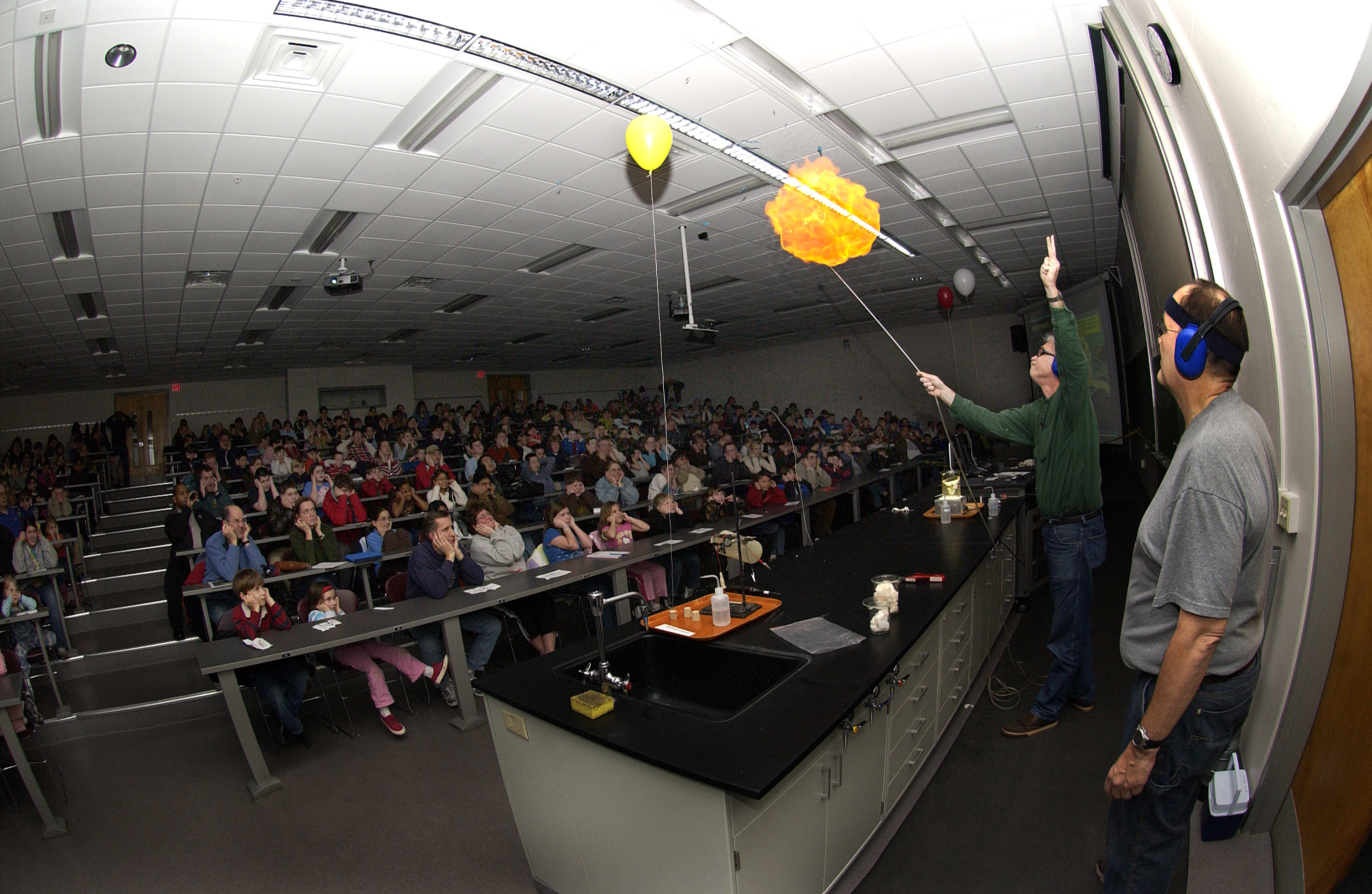 "Jim has endless enthusiasm for chemistry and a broad interest in science. He's a fabulous educator with great stage presence," said longtime chemistry colleague and friend Jack Selegue, with whom Holler devised a widely popular introduction to chemistry presentation called the "Chemical Reaction Attraction." The pair have presented the program—with its electrified, glowing pickles, and scores of other, fun, smoky, color-filled reactions—to thousands of elementary and middle school students both on campus and off over the past 20 years.
Holler and Selegue entertain the crowd during a Reaction Attraction - photo by Tim Collins
Holler and Selegue also collaborated to build the wildly popular Periodic Table of Comic Books web site, www.uky.edu/Projects/Chemcomics/, which has gotten more than 4 million hits, and lots of worldwide press, since going live in 1996. The site features scanned pages from decades of comic books illustrating characteristics of the elements, such as the "Metal Men" series of comics from the 1960s. Here is a specific comic with a direct tie to UK. 
In both the Chemical Reaction Attraction series as well as his daily lectures, Holler "tried to sprinkle little things in here and there to help students enjoy science," he said. "Jack and I tried to counter that feeling that people sometimes have about science—of being bored to death by some lecturer—with as much fun as we could come up with." 
Holler's talent for teaching didn't go unnoticed. In 1993, Holler was awarded the University of Kentucky Alumni Great Teacher Award as well as the Department of Chemistry's Teaching Award. Twice during his tenure he was a finalist for UK's Chancellor's Award for Excellence in Teaching.
Even fellow faculty members relished watching Holler work a classroom.
"I sat through one of Jim's general chemistry courses one summer, and I thoroughly enjoyed it," said longtime chemistry colleague Steven Yates. "His approach to teaching is a little unique. He loves doing demonstrations. I immediately saw how I could transfer many of the things he was doing into my own lectures. I learned a lot in seeing how he taught a course."
Even when a demonstration backfired, Holler used it to his advantage.
"I always tried to take advantage of the so-called 'teachable moments' when something went wrong," he said. "If you can work on your feet, you can ask questions that help students understand. You can get them to think about how science actually works."
One of Holler's teaching highlights, he said, was serving as director of the Modern Studies Minicollege in the mid-1990s. The program allowed small groups of roughly 60-100 students to take their first two years of university studies courses together. Many of the courses were linked; for example, students might read Galileo's writings in their humanities class, then they would re-create several of Galileo's experiments in the science course Holler team taught with former UK theoretical astrophysics professor Suketu Bhavsar.
"I'd say in terms of my teaching life, that was pretty close to the pinnacle," Holler said. "It was this amazing, small group of faculty who were really interested in teaching and who were willing to work on this idea of integrating the subject matter across disciplines."
Always on the cusp of technology, Holler was one of the earliest UK professors to introduce clickers into his classes. And, his expertise in chemical instrumentation was another boon to the department: at a time when the field was just beginning to take hold, he helped innovate the use of computers within chemistry to control and optimize experimental data and created a popular course at UK on the subject.
"A lot of things we did in that [chemical instrumentation] course really helped with the research that we were doing in the laboratory," said Holler. "In graduate school, I was trained with the thinking that research and teaching go hand in hand—that you can do both. I believe active research enhances your teaching, and if you are conscientious and work hard enough at your teaching, it can oftentimes influence your research. Both things happened with that course."
As well-known as Holler is on campus, his years of work as a textbook author has brought him notoriety far beyond UK's walls. (He has co-authored several editions of a popular textbook on chemical instrumentation, Principles of Instrumental Analysis, as well as Fundamentals of Analytical Chemistry, considered the standard textbook in its field.)
 "It is possible Jim has more name recognition in the broader chemical community than any of the rest of us because of his involvement with his textbooks," said UK chemistry professor Carol Brock.
With more freedom now in retirement, Holler plans to travel with his wife, Vicki, and enjoy time with his four grandchildren. But his work on the textbooks will continue: the ninth edition of Fundamentals of Analytical Chemistry is set to be published later this year.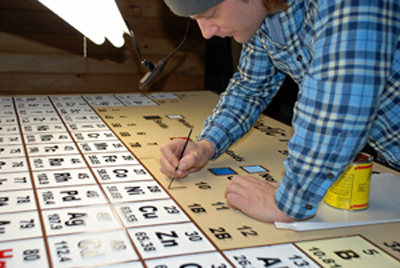 And, while Holler may be settling into retirement in his peaceful log house near Stamping Ground, a part of him will always remain at UK: early this semester, he installed a new, 5 ft × 8 ft handcrafted periodic table he designed and built with his son, Brad, in the Chem-Phys Building's main lecture hall."We thought it would be a neat father-son project," Holler said. "It turned out beautifully. It was a great way to finish off my career."
Jim Holler's son Brad working on the periodic table. View the entire photo album of the peridoc table being made - courtesy of Jim Holler.