Location:
UK College of Law Courtroom
Speaker(s) / Presenter(s):
Crystal Wilkinson, Dwight Billings, Ivy Brashear, and student presentations
Please, join us for the 8th Annual GARC (Graduate Appalachian Research Community) Symposium and Arts Showcase!  This event will be held on Saturday, February 18th, 2017 at the UK Law Building Courtroom. The specific daily schedule is currently being written and will be updated soon. The keynote panel this year includes a highly-esteemed group of speakers: Crystal Wilkinson, Dwight Billings, Ivy Brashear, and Robert Gipe. Undergraduate and Graduate students with research and work pertaining to Appalachia, from all Colleges and Universities, and from all disciplines are welcome and encouraged to submit poster and presentations proposals through the GARC website abstract submission form. The deadline for submissions is Wednesday, February 1, 2017 by midnight. Students are not required to present to attend. We do ask that all presenters and non-presenters register to attend by midnight on Monday, February 6, 2017. For more information, details, and updates about the coming symposium, please visit the GARC website's Annual Research Symposium page!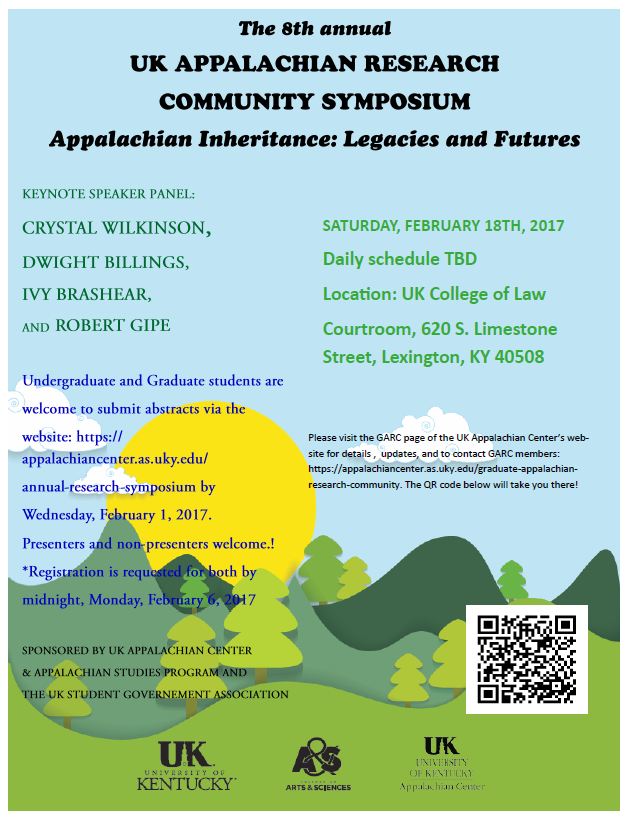 Type of Event (for grouping events):